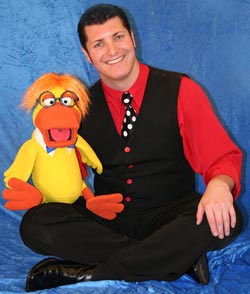 Glenn the MagicMan's high-energy shows are packed to the brim with comedy, laughter, slapstick, magic, ventriloquism, as well as lots of audience participation and special 'star' treatment for all of his onstage volunteers.
Glenn has shows specific to a wide range of age groups, from children's shows and family events to corporate and private functions.
All of Glenn's performances are highly visual and very colourful involving the whole audience, delighting them with magic, balloonary, and loads of laughs for young and old.
Also a trained ventriloquist, Glenn uses professional puppets to create incredible comedy moments, bringing to life amazing characters much to the enjoyment of adults and children alike.
Glenn also entertains with up-close illusions at the dinner table or for small groups of standing guests with magic that often happens in the spectator's own hands.
For world class magic and comedy entertainment that's enjoyed by all ages, call Glenn today on 0418 391 526 or email info@glennthemagicman.com.au.